Warm congratulations to Mingguang Wanjia for successfully passing the certification of "Anhui Enterprise Technology Center"
---
Time of issue:2020-03-12 00:00:00.000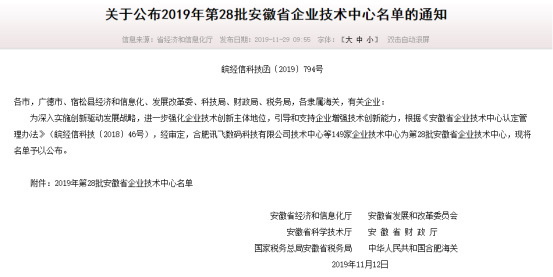 Recently, the Anhui Provincial Department of Economics and Information Technology, together with the Provincial Development and Reform Commission, the Provincial Department of Science and Technology, the Provincial Department of Finance, the Provincial Taxation Bureau, and Hefei Customs, announced the list of Anhui Enterprise Technology Centers in 2019. Mingguang Wanjia was among them and was officially recognized as a "Anhui Enterprise Technology Center".
The enterprise technology center is a technology R&D and innovation institution established by the enterprise. It is responsible for formulating enterprise technology innovation plans, carrying out industrial technology research and development, creating, using and protecting intellectual property rights, establishing a technical standard system, cohesion and training of innovative talents, building a collaborative innovation network, and promoting The whole process of technological innovation is implemented. Anhui Enterprise Technology Center requires enterprises to have obvious development and competitive comparative advantages in the industry, strong technological innovation ability and level, and relatively good technological innovation mechanism.
The recognition of "Anhui Enterprise Technology Center" this time is another important achievement of Mingguang Wanjia in the field of scientific research and technological innovation. In the future, the company will give full play to the platform advantages of the enterprise technology center, strengthen technological innovation and scientific research echelon construction, promote the transformation of scientific and technological achievements, enhance the company's comprehensive competitiveness, and promote the sound and rapid development of the company.
COPYRIGHT © 2020 Mingguang Sanyou Power Technology Co., Ltd All rights reserved

皖ICP备17001531号
seo tags
Powered by :300.cn