Mingguang Wanjia won the "Safety Production Standardization" certificate
---
Time of issue:2018-09-28 00:00:00.000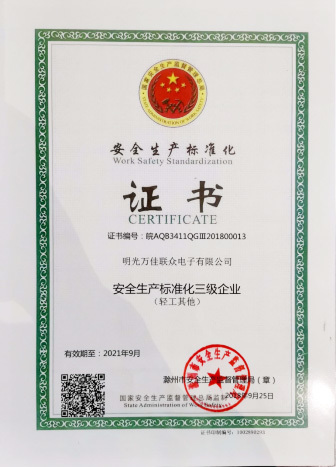 On September 25, 2018, Mingguang Wanjia was appraised by the Chuzhou City Safety Production Supervision and Administration Bureau as a third-level enterprise (light industry and others) of safety production standardization. This honor marks that the company's safety management level has reached a higher level .
Safety standardization is a systematic project and an important part of the enterprise management system. It needs to make unremitting efforts and carry forward the spirit of perseverance in order to achieve the expected results. In accordance with the cycle of planning, implementation, inspection, summarization and improvement, we will earnestly carry out safety standardization work, so that the company's safety production standardization construction will continue to deepen and improve.
The company's production safety standardization construction follows the safety production policy of "safety first, prevention first, and comprehensive management", based on the investigation and management of hidden dangers, to improve the safety production level, reduce the occurrence of accidents, ensure personal safety and health, and ensure production and operation activities. Through the construction of safety standardization, we will improve the company's safety production responsibility system, safety production system, and operational norms, so as to comprehensively improve the level of safety management.
In the future, Mingguang Wanjia will make persistent efforts to be a model of safe production and enthusiastic public welfare. Continuously improve the safety awareness of enterprises, actively undertake social responsibilities, and make due contributions to the construction of Chuzhou, creating a social atmosphere of safe production, honesty and trustworthiness.
COPYRIGHT © 2020 Mingguang Sanyou Power Technology Co., Ltd All rights reserved

皖ICP备17001531号
seo tags
Powered by :300.cn